What is PDR?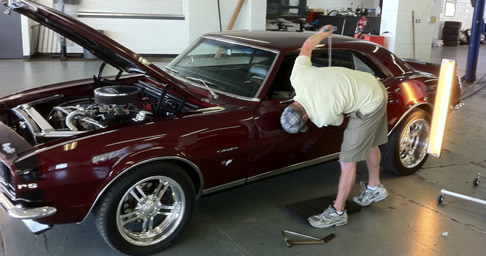 Paintless Dent Repair
From Wikipedia, the free encyclopedia
Paintless dent repair (PDR), also known as "paintless dent removal", is a collection of techniques for removing minor dents and dings from the body of a motor vehicle. A wide range of damage can be repaired using PDR; however, usually if there is paint damage, PDR may be unsuitable.
The most common practical use for PDR is the repair of hail damage, door dings, minor body creases, and minor bumper indentations. The techniques can also be applied to help prepare the damaged panel for paint. Such applications are referred to as "push to paint", or "push for paint".
Limiting factors for a successful repair using PDR include the flexibility of the paint, and the amount the metal has been stretched by the damage incurred. Generally, the more shallow the dent, the greater the chance of paintless dent repair being a suitable option. Even dents with a several-inch diameter can be repairable with this method, as long as the dent is shallow and uncreased. Hence, often extremely sharp dents and creases may not be repairable - at least not without painting afterwards, although a very skilled master tech may surprise one with what he can get out.

The technology of PDR has been around for many years, and has become popularly adopted for such purposes as lease return, auction preparation, rental car maintenance, and increasingly, consumer vehicle repair. Consequently, consumer-level awareness of the techniques has increased in recent years.


Advantages of Paintless Dent Repair
A number of advantages for paintless dent repair include:
• no repainting or body filler needed;
• less expensive than traditional body repair;
• no risk of paint overspray on other vehicle areas;
• no risk of incorrect color matching;
• vehicle retains original paint.
A vehicle with original paint retains a higher value than a repainted vehicle. Even if it is just a door or a fender, it is always preferable to maintain the original paint on a vehicle for as long as possible.


Superior Paintless Dent Removal Inc. has been providing professional paintless dent removal since 1996. Superior Paintless Dent Removal employs only A+ rated techs who are on call 24/7. We work with all major insurance companies and maintain an A+ rating.
Superior Paintless Dent Removal proudly serves Pennsylvania, New Jersey and Delaware, some of which counties include:
Lehigh County, Northampton County, Bucks County, Montgomery County, Chester County, Delaware County, New Castle County, Kent County, Sussex County, Monroe County, Carbon County, Luzerne County, Lackawanna County and Berks County.

Superior Paintless Dent Removal, Inc. 2127 Hayfield Ct, Fogelsville, PA 18051
© 2013 Superior Paintless Dent Removal, Inc. All Rights Reserved | Sitemap

Site developed by BendingTimeDesign.com